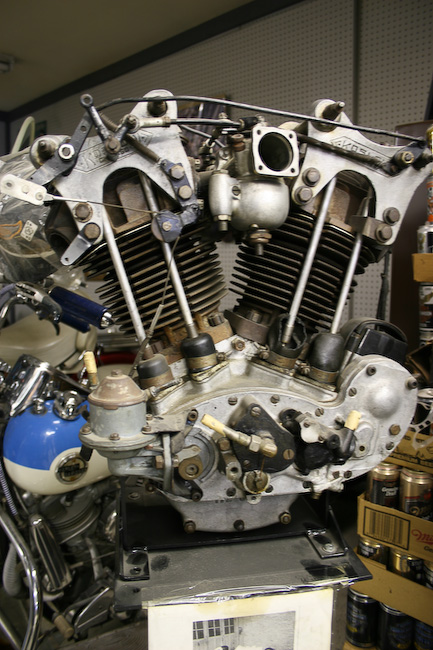 This is an engine I found beneath a workbench while helping Bob Bamford on a 47 Offenhauser-powered brickyard racer back in the 80's.
The story I got from him was that it is as highly modified Harley VL engine from 1936. It has special built components by Andy Koslow of Chicago. The left case half was cast by his foundry for extra strength and larger bearings. The cylinders are oversize and was done by the same company that was making the Harley cylinders at the time. The displacement is somewhere around 105 cubic inches. It has dual bombsight alcohol carbs by Tillotson.
In 1936, overhead valves first emerged in HD Knuckleheads, and these appear to be Harley rocker arms with standard ratio, but they are totally exposed with grease zerks on the ends of the rocker shafts.  The side support plates for the rocker arms are also of Koslow design, and are manufactured by him. Although Andy was a famous hill climb enthusiast, he designed and helped bring a few of these engines to production. This engine was used in a race car similar to what's now known as a midget car. Back then, they were called popsicle racers, I think.
Tony Bettenhausen supposedly won his first professional race sitting behind this very engine. I think it was likely the 1941 race at the Chicago Raceway Park. If anyone knows more about this story, or this engine, I would love to hear it.
Everything aside, this is still an exotic and gorgeous engine. I have the complete toolbox that accompanies the motor, and the special dovetail tools for removing all the nuts. One of these days I'm going to fuel it and fire it up.  It turns over and the mag is hot.  I bet it's ready and waiting to go. Now where did I leave that run stand…